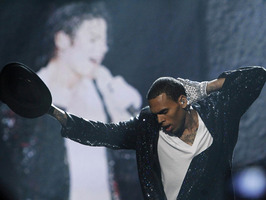 Anoche la entrega de premios BET, organizados por Black Entertainment Televisión, termino siendo una emotiva celebración por la actuación del rapero Chris Brown.
Presentado por Jermaine Jackson, el hermano de Michael. Chris dedico un breve homenaje al Rey del Pop, imitando los conocidos pasos de baile de The Way You Make Me Feel,Smooth Criminal y Billie Jean e intento cantar el clásico Man In The Mirror.
La emoción y las lágrimas, le impidieron a Chris seguir con la canción que al final, todos los asistentes a la ceremonia se levantaron para aplaudirle por su gran actuación.